by Mitchell Weitzman
July 1st, 2020
In an emotional visit to Israel's Yemin Orde Youth Village in June 2019, Lucia Weitzman shared her story of resilience and hope with a group of diverse students.
Yemin Orde is home, school, and safe haven for at-risk immigrant youth from around the world. It was initially established for orphaned Holocaust survivors—as Lucia was.
This is the story behind Lucia's appearance there, the manifestation of a mystical vision she once experienced, and an expression of her hope for our collective future.
Yemin Orde is situated in green meadows atop Mount Carmel, a relatively low-lying summit sprawled between the Menashe Plateau to the south, the Mediterranean Sea to the west, Haifa Bay to the north, and the Jezreel Valley to east. It is a site rich with Biblical significance.
Its implication for Lucia was unexpected. As recounted in her book The Rose Temple, in 2008, Lucia, in the midst of a spiritual journey, was trying to understand what she'd "heard" while standing in the shadow of the Western Wall: "Your work will help rebuild the Temple."
A year after that experience, she dreamt that she was standing at the peak of a grassy mountain, yet was denied the opportunity to "see the other side." Suddenly, she and the mountain shifted. In the next part of the dream, Lucia was on the ground of an old structure that resembled a temple or monastery. A man wearing a cloak, someone she presumed was a holy figure, approached her. She asked whether she could go back up the mountain, still wanting to "see the other side."
Who was the holy figure? she wondered. The answer was revealed in another dream. He was the Prophet Samuel, who was now helping her serve food to a celebratory gathering of young people. The Prophet walked with Lucia to a set of double doors and opened them. A pristine, sun-drenched beach appeared before them, ocean waves crashing majestically over the sand.
Upon awakening from her dream, Lucia placed her journal in her lap and began to write. The words entered her essence and flowed through her pen.
The mountain that I have shown you is a temple not of stones, but of love. It is a temple of light that you carry in your heart.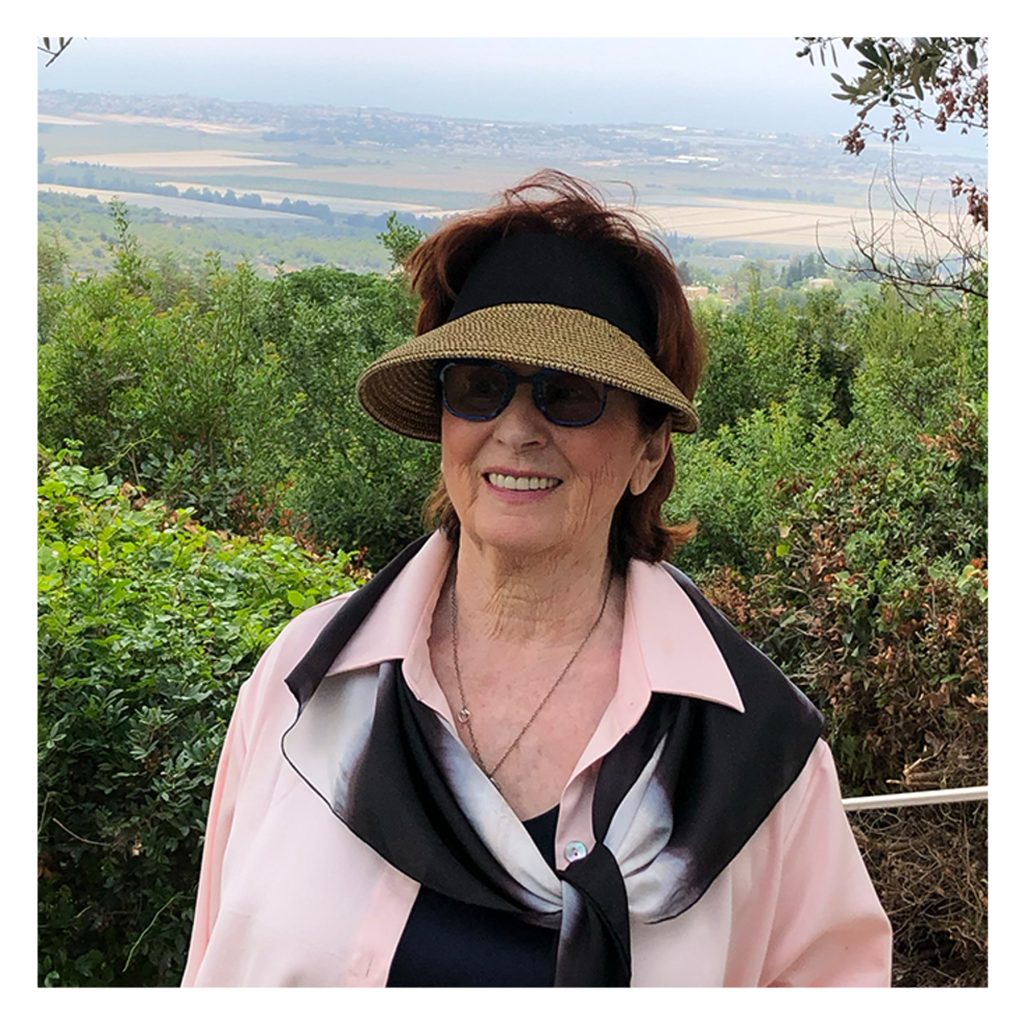 After The Rose Temple was published in 2016, Lucia continued her spiritual journey and continued to write. Yet, an unanswered question lingered: Where was this mountain she had dreamed about?
Fast forward to June 2019. Lucia learned that her granddaughter, Genna, would be celebrating her Bat Mitzvah in Israel, and that Genna chose to support Yemin Orde's mission as her Bat Mitzvah project. Lucia knew little about Yemin, but as soon as she discovered that it was located atop Mount Carmel, it stirred her spiritual sensibilities.
She learned that the Prophet Samuel had founded a school for prophets in northern Israel and that his followers had established a campus at Mount Carmel. That was it! Mount Carmel was the mountain she had been shown in her dreams.
Now the puzzle was coming together.
The Prophet Samuel lived in a time of great turbulence when the Israelites were dominated by the Philistines. Asked by the Israelites to appoint a king so that they could be like other nations, Samuel was reluctant. The Israelites already had the ultimate king—God. But Samuel eventually succumbed to popular demand and anointed Saul as the first king of Israel. When Saul disobeyed God's command, it was Samuel who anointed David as the new king. More than simply an ascension, David's coronation and legacy ushered in a new world era.
Like the Prophet Samuel, Lucia lived through a time of great turbulence. In her dream, Samuel was helping her serve food to a gathering of young people, but Lucia understood that the food represented both a celebration of peace on earth and a metaphor for spiritual nourishment.
Entering the grounds of the Yemin Orde Youth Village, Lucia absorbed the weight of the moment. She hoped that her words would inspire the students. These were young people who would one day venture out into the world and help shape its future. Like the panoramic view the Prophet Samuel had shown her, Lucia hoped that the new horizon the students of the Yemin Orde Youth Village entered into would be filled with God's light.
###