by Mitchell Weitzman
July 22nd, 2018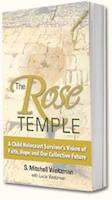 "Your work will help rebuild the Temple."
          — Lucia Weitzman, The Rose Temple: A Child Holocaust Survivor's Vision of Faith, Hope and Our Collective Future
Lucia Weitzman is a woman on a quiet, private spiritual journey. Yet she is inspired to write a passage with implications that are controversial and public.
"Rebuild the Temple?" When? How?
She later learns that the message, which she believes to be Divine, was metaphorical.
The Rose Temple, a work that chronicles her transcendent personal evolution while calling for tikkun olam, a healing or repairing of the world, represents a "temple of love."
From the ashes of the Jerusalem temples to the ashes of the Holocaust, Lucia mourns with the rest of us on this Tisha B'Av, yet also maintains faith and hope that Divine love will one day illuminate our world.
Read more above Lucia's journey in The Rose Temple.
---
What are your thoughts about the meaning of Tisha B'Av today?